Buying a model kit for someone is a super gift and we can heelp you choose what you need if you are not sure.
As well as a great gift in their own right they also serve as a superb time-passer with the potential of hours of relaxing fun to be had while at home, they can be very theraputic and fun.
We have hundreds of kits to choose from here on our website including all the tools, paints, equipment and accessories to build them, we have absolutely everything you need.
We've put together a quick guide for ideas on what to buy to someone as a gift for a first time modeller to get them started or to replicate a vehicle they own in real life maybe.
Everything listed in our store is in stock and we pride ourselves on good service and quick shipping that you can trust. We are a small family business so you can buy with absolute confidence knowing you can speak with us to ensure you get the right kit and in good time.
If after reading our tips you still have questions, we are happy to talk on the phone or email to help you make the right choice. You'll find our contact information here.

Gifts for first timers / buying for someone who has the real vehicle
Start with our seach function at the top of the website, put in the name of the car or make and our search will bring up anything we may have that is related to that make. You can also use the main menu – we have cars, bikes, trucks and so much more, keep scrolling through everything!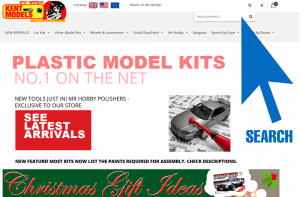 Each kit requires assembly with glue and require painting. There are a small number of kits that already come painted or dont require glue and they will say that if so – if it doesnt say that they will need glue and paint.
All kits comes with picture instructions for assembly. As a reasonable guide we say that our kits are suitable for ages 8+ really but with adult supervision given the glue, paints and knives required but its a great way of working with your children together at the dinner table making a kit.
TOP TIP: Some customers buy just the model kit which is great but if you plan to give it is as a gift and wish for them to assemble it then the minimum you will also need is glue or they wont be able to build it until they shop for some – its disappointing to receive a great model but learn that you'll need to wait to do anything with it as it didnt come with glue so make sure you remember to add some to your basket. You'll find glue here
*One jar of glue is enough to build multiple kits*
If you want to make a really cool gift, we have taken the hard work out of it for you by putting together our novice starter assembly kit which features all the basic glue, burshes and tools you'll need to assemble any kit we sell – this makes it very easy for you if you are unsure what else to buy with the kit – just add that to your basket with your chosen kit and you are covered – they can unwrap the present and get building.
Once you have a kit, glue [ or starter kit ] you can also consider what paint you may wish to buy for it too. All kits require painting and its upto you how you go about that. The options are:
We sell all and any of these options. To make it easy, on the kit product page we have listed the paint codes you need in order to paint the car exactly as the manufaturer describes. These are listed as 'H' numbers which relate to My Hobby brand paints and 'X' numbers for Tamiya brand paints. Each kit instructions also list this information sould you wish to buy them later. You can use either brand paints.
TOP TIP: The most popular way to paint a kit is to buy a can of aerosol to paint the main body colour and then a few 10ml jar paints to brush paint the smaller parts and details.
Modelling paint is different from other automotive paints in aerosols as it is much finer to ensure you dont flood the details so be sure to use modeling aerosols – we sell either Mr Hobby or Tamiya.
If you are unsure if your recipient will know how to to make a model etc, we have a great selection of how-to videos which gives great tips om everything from glueing to paint and more. You can see them here
Modelling is an amazing gift as not only do we have some awesome kits but you have something to build and hopefully for the young ones, create a new and fabulous hobby away from the Xbox which teaches them manual skills and creativity. It really is a joy and for most, something that they will do forever.
If you have any further questions, can decide on paints, or anything else that you need to talk to someone about in order for you to make an order, please get in touch, we are here to help you get the right kit and supporting items to give a great gift.
Thank you for supporting us and well done for finding the best plastic model shop on the net!