Mr Hobby Mr Colour Spray Paints – Huge Colour Range
Mr Hobby Spray Can Paints For Model Making – SUPERB QUALITY
Specifically for plastic model kits – huge colour range in stock [ including TOP COAT CLEARS ]

Check the colour swatch and select the colour from the dropdown box

This paint is recommended by AOSHIMA and FUJIMI factories for the best results in your build

We also sell small 10ml colour pots for brush or airbrush application of detailed parts
Widely regarded as the leading paint for your model, superior guarantee
Select COURIER SHIPPING option – we cannot ship paints by normal post
In stock – add to a kit purchase an pay no extra shipping cost
We are an official UK dealer of Mr Hobby products – we stock lots of other Mr Hobby products
Buy with absolute confidence
The Mr Hobby Mr Colour Spray Paint is Extremely useful for painting large surfaces; this is because the paint is a synthetic lacquer that cures in a short period of time. Each can contains 100ml of paint, which is enough paint to fully cover two or three 1/24 scale sized cars. Mr Hobby spray paints are not affected by acrylic or enamel paints; therefore, following an overall base coat, details can be added or picked out using enamel and/or acrylic paints. By combining the use of these three types of paints, the finishing of plastic models becomes simpler and more effective.
We are only able to send spray paints via courier as Royal Mail restrict the shipment of hazardous aerosols. Because of this, if you are a non-mainland UK or Highlands customer you may be asked to pay an additional postage fee depending on your location. You only need to pay one postage cost of £6.10 regardless of however many colours you add into your basket from this listing  as well as other items such as a model kit as long as your not in the areas mentioned above…
MR HOBBY MR COLOUR SPRAY PAINT CHART:
Please click the image if you wish to enlarge it.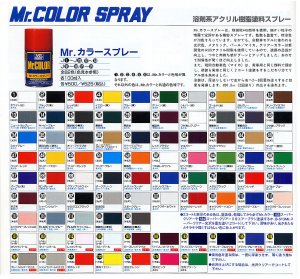 BUILDING TIPS VIDEOS:
New to modelling? You can find many helpful quick videos on our YouTube account, such as showcasing what you get inside a plastic model kit with discussions on what tools and items you need to get started.
You can view our YouTube page and the videos by clicking the image below: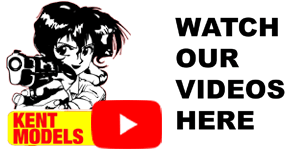 Additional information
| | |
| --- | --- |
| Weight | 10 g |
| Select Spray Can Colour | White S001, Black S002, Red S003, Yellow S004, Blue S005, Green S006, Silver S008, Gold S009, Steel S028, Flat Clear S030, Dark Yellow Sandy S039, Clear S046, Orange Yellow S058, Pink S063, Yellow Green S064, Bright Blue S065, Bright Green S066, Purple S067, Off White S069, Mettalic Red S075, Metallic Blue S076, Metallic Green S077, Metal Black S078, Shine Red S079, Cobalt Blue S080, Semi Gloss Black S092, White Pearl S151, Navy Blue S014, Flat Black S033, Sky Blue S034, Flat White S062, Light Gull Grey S011, Olive Drab S012, Dark Grey S031, Sky Blue S034, Clear Red S047, Clear Yellow S048, Clear Orange S049, Madder Red S068, Dark Green S070, Olive Drab2 S038, Neutral Gray S013, IJN Green S015, Dark Gray S032, IJN Gray S035, Germany Grey S040, Red Brown S041, Wood Brown S043, Russet S081, Light Gray S097, Smoke Gray S101, IJA Green S016, Mr Top Coat Semi Gloss, Mr Top Coat Gloss, Hull Red S029, RLM65 Light Blue S115, RLM76 Light Blue S117, Dark Green Mitsubishi S124, Dark Green Nakajima S129, Mahogany S042, Shine Silver S090, Tan S044 |